FAQs
Find answers to the frequently asked questions about Hotel Eldorado in Kelowna, BC, and start planning your visit to our lakeside resort! For more information or assistance, contact the hotel and an associate will be happy to answer your questions.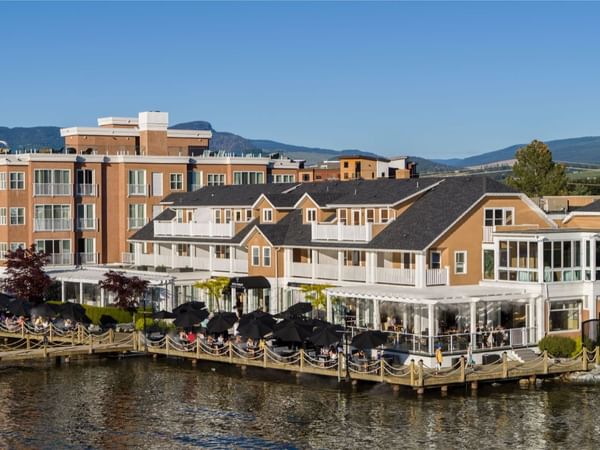 Resort Questions
Do you have on-site parking?
Yes, on-site is available for overnight guests and restaurant patrons. Boat trailer parking is not available.

What is the cost of parking?
Parking is complimentary for hotel and restaurant guests. License plate registration is required from May - November.

Are you pet friendly?
Yes, we are dog friendly. Dog friendly rooms are available for $30/night per pet, maximum of 2 pets per room. View our pet policy and waiver here.

When is check-in/check-out time?
Check-in time is 4:00 PM. Check-out time is 11:00 AM.

Can I have an early check in or check out?
Early check-in or check-out requests are not guaranteed. If you expect to arrive to the resort early, we encourage you to inform the front desk of your arrival. If your room is not ready, we will ensure luggage storage until your room is ready.

How much tax will I be charged on my room?
Accommodation taxes amount to 16% (5% GST, 8% Hospitality Room Tax and 3% MRDT (municipal and regional district).
Are children allowed at the resort?
Yes, individuals under 18 are considered children and welcomed to the Resort.

Extra charge per guest?
$20 per extra adults greater than double occupancy.

Do you have ADA accessible rooms?
Yes, we offer wheelchair accessible rooms. Please inform the reservations team if you require one of these rooms when making your booking. The Eldorado Resort: Manteo has three ADA rooms with a roll in shower, lowered light switches, door handles, shelving, and hangers. Bed can be lowered on request. Eldorado Resort: Hotel Eldorado does not have accessible rooms.

Do you have a fitness center/ pools/sauna?
The Eldorado Resort has 2 fitness centers, 2 indoor pools, sauna, 2 indoor hot tubs, 2 outdoor pools, and 3 outdoor hot tubs. Our indoor pool and hot tub at Hotel Eldorado is open daily 6:00 AM – 10:00 PM with limited bather loads, unless all guests are from the family or guest room. Our indoor pool and hot tub at Manteo Clubhouse is open daily 8:00 AM – 10:00 PM with limited bather loads, unless all guests are from the family or guest room.Reservations are required and available at time of check-in. Guests are asked to social distance. Please refer to our Covid 19 updates for amenity availability.
Do you have complimentary breakfast?
Breakfast is available daily at Hotel Eldorado from 7 am - 10:30 am at a cost.

Which popular attractions are close to you?
Beach, marina, wineries, golf courses. Please refer to our Attractions page for more details.
Which room amenities are available?
All rooms have complimentary bottled water, Keurig coffee maker, fridge. Microwave available upon request.
See individual room descriptions for additional amenities.

Do you offer non-smoking rooms?
All rooms are non smoking. Including the balconies.

What is your smoking policy?
The Eldorado resort buildings are smoke free. There is a penalty of $250 for in-room smoking. Designated smoking areas are available.
Does Eldorado Resort offer car charging stations?
There are two pay stations that can fit two cars each.
Do you have an ATM?
Yes, there is one located by the Front Desk of the Manteo and by the Hostess Stand at Hotel Eldorado.
What is your cancellation policy?
Guest Rooms & Suites cancellation policy: 48 hour notice required by 4pm Villa cancellation policy: 48 hour notice required by 4pm all year except if booked June 25 – September 5, 2021: 30 Day Cancellation. Full Payment forfeited if cancelled within deadline.
Is parking available if my guests are not staying at the hotel?
We do ask that guests that are not staying with us utilize the adjacent city parking lot, or on street parking.
Dining Questions
Do you have an on-site restaurant?
The Eldorado Resort: Hotel Eldorado and Manteo has 5 dining outlets to choose from: SmackDAB, The Whisky Room, Lakeside Dining: Dining Room, Lounge, and Boardwalk.

What are you F&B hours?
Please refer to our dining page for the most up to date hours of operation.

Do you take reservations for F&B?
Yes, reservations are available for lunch and dinner at Lakeside Dining. Please click here to make your reservation.

Is restaurant open for in-dining seating?
Yes.

Do you have a COVID response?
Yes, view our safety program for the new restaurant protocols.

Do you have take out?
Yes, take out is available. View our To-Go menu here.

Where is check-in?
Please proceed to the Manteo (3762 Lakeshore Rd, Kelowna BC V1W 3L4) to check-in.
Check-in may also be available at Hotel Eldorado seasonally, contact our front desk at (250) 763-7500 for more information.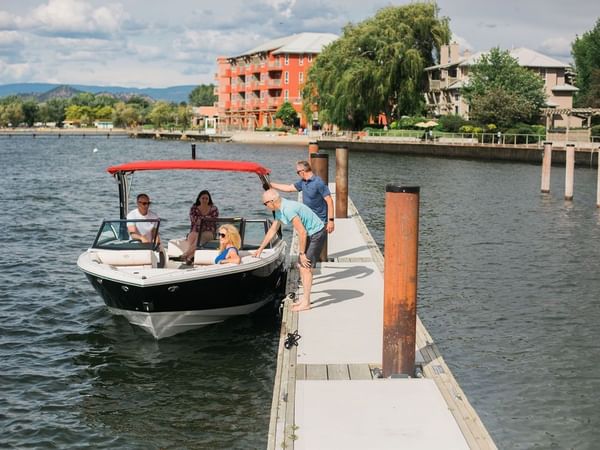 Marina Rental Questions
Do I require a boater license to operate a water vehicle?
A temporarily license is provided when you rent with Eldorado Marina.

Will someone show us how to operate the watercraft?
Yes, we offer full orientation and demonstrations to ensure you are well equipped to operate the vessel

What time should we arrive for our rental?
It is recommended that parties arrive 30 minutes prior to the rental period. This allows time for check-in and orientation.

Is gas included in our rental
The rental starts with a full tank. There will be a charge for refilling the tank upon return. You will only be charged for what is used.

Am I covered by insurance for any damage I accidently cause?
No, when you rent a boat the renter is liable for any damages that occur. During orientation all previous damages are recorded and noted.

Can we drink or consume cannabis while on a boat?
It is illegal under the Criminal code of Canada to operate a boat if your impaired by drugs or alcohol.

How long can we rent a boat for?
Most renters average between 4-8 hours on the water. There is no time limit. Daily, weekly and monthly rentals are available.

What should we bring while out boating?
We recommend towels, water, sunscreen etc. We supply boating supplies at both retail outlets as well as snacks.

Can I rent a boat with no experience?
Yes, we are committed making sure everyone feels confident by giving a full orientation to ensure you feel safe before leaving the dock.

Do accessories come with rentals?
You receive one free accessory with any rental over 4 hours plus an additional fee over any additional accessories

Where should we go?
• Downtown
• Rattlesnake Island
• Peachland
• Paul's Tomb

Where do we check in for rental or overnight moorage?
When you arrive on property make your way to the 'El Boathouse" for further assistance.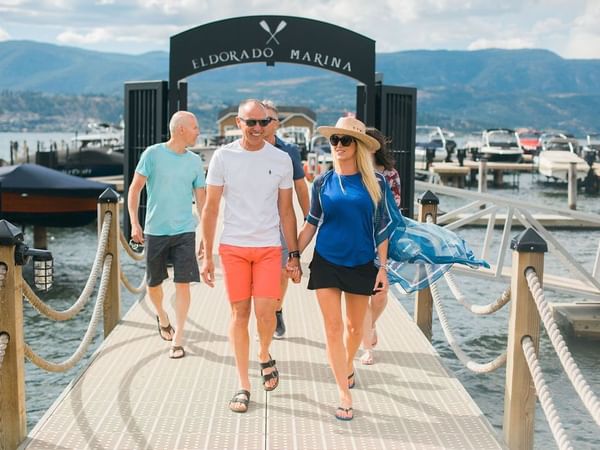 Marina Questions
Is there boat moorage available for restaurant dining?
Yes, if approaching via water follow your way between both Marina towards the Eldorado Boardwalk. Turn right and there are two long floating docks available for tie up

Where do we park if we want to stay overnight?
We only offer overnight moorage on our lifts for safety and security. Please check in with a Marina attendant or call 260-763-3625 for more information.

Are all the boats on the lift rentals or private?
We have boats available for rent and offer seasonal moorage to private customers

What boat options are available?
We rent from WaveRunners up to Tournament wake boats. Please find more information on our website.

What days are you open?
We are closed for the winter season and open 7 days per week, 12 hours per day during peak season. Check our Marina website for more up to date information.

Where can we purchase liquor?
We have off-sales available from Hotel Eldorado. Off-sales are also available from the Marina Boathouse during peak season.

What food options are available?
During peak season, we have hot food, snacks and sandwiches available daily.

Is your boat launch open?
We do not own the boat launch however it is a public boat launch owned by the city. Learn more.

What type of fuel do we sell?
We carry Premium Dyed Unleaded 91 octane fuel.

What are your rules in regard to professional photography or filming at the resort?
No photography or filming is permitted in common spaces where it would be disruptive to other guest's and their privacy within the Resort. Proper authorization must be approved and arranged with our Director of Sales and Marketing.
For inquiries you may contact: jbirk@eldoradoresort.ca.

Do you have an ATM?
Yes, it is located by the Front Desk of the Manteo and near the entrance at Hotel Eldorado.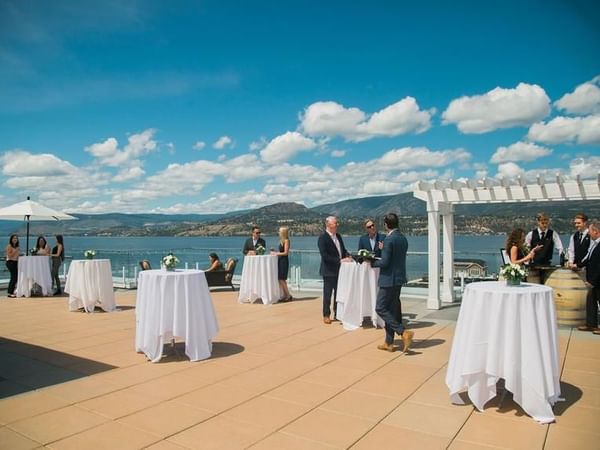 Wedding and Meeting Venue Questions
Can I book my ceremony at one hotel, and my reception at the other?
We recommend booking both at the same hotel, but if you are interested in booking at both, contact the Conferences Services Manager for available options.

Could we arrive by boat?
Yes! Moorage is available for rent overnight for Eldorado and Manteo guests. Please contact the Marina directly for price and information.

When is last call?
Last call will occur at 11:30pm, music to conclude and bar closes at 11:45, guests to depart by 12:00 midnight. Clean up will occur 12:00 am to 1:00 am.
*Will vary depending on current Provincial Health Orders. .

Are there any décor restrictions?
Reception: No nails or confetti. Enclosed candles are allowed.
Ceremony: No rose petals (real and fake), confetti, rice. Nothing is to be nailed to the arbor on the Sun Roof.

Can I store my décor and pick it up the day after my wedding?
Unfortunately, we do not have enough storage to hold your items until the next day. Please discuss with your decorator or wedding planner to discuss options, they are often happy to help coordinate pick up.

Are there any noise restrictions?
Out of respect for our other hotel guests, we do ask that decibels must remain under 90.

Do you have a back up ceremony location in the event of rain?
We are blessed in the Okanagan with warm weather. In the event of inclement weather, your reception venue may be used, or the ceremony time may be pushed. Ceremony relocations are done as a curtesy and no reimbursement will apply.

Do you have tablecloths?
Yes, white tablecloths and napkins are available in all venues. Table are 60" round tables. You are welcome to rent tablecloths, runners and napkins. These linens may be delivered 24 hours in advance and our banquet team would be happy to set up these items.

Can I have my ceremony only at your venue?
Ceremony only is available from 9:00 am to 11:00 am on the Sun Roof at Hotel Eldorado only, all guests are expected to depart by 12:00 pm.

Can I get married at another venue, and have my reception at Eldorado Resort?
Yes, you're welcome to choose an alternative ceremony location.

Will I get a wedding rehearsal?
A rehearsal will be available one to two days prior to the wedding. Rehearsal time may vary based on other events in our venue. A specific time may be confirmed up to 3 weeks in advance.

Can I have a rehearsal dinner, or post wedding brunch at the resort?
Absolutely! We've got a few fabulous venue options for these events and would be happy to discuss the options.

Do I need any licensing such as a special events license, or liquor license?
No, we are fully licensed!

Can you bring your own catering to events?
In accordance with health and safety regulations, no outside food or beverage is permitted to events.
Is parking available if my guests are not staying at the hotel?
We do ask that guests that are not staying with us utilize the adjacent city parking lot, or on street parking. Please advise your guests to arrive approximately 30 minutes in advance to ensure they have time to park prior to the ceremony.
Are pets allowed?
Yes! Your pet is welcome during your ceremony, but may not enter the reception venue during food service, and must leave after the ceremony.

Is there a minimum number of guests?
Yes, the Manteo Waterfront Ballroom & Patio and Hotel Eldorado Great Room & Sun Roof have a 100-guest minimum. If your final numbers reduce from this minimum guarantee, an additional charge as follows will apply. Note: These rules may vary due to COVID related restrictions. Please contact the team for more information at this time.

• 80-99 guests - $10.00/person, plus applicable gratuities and taxes
• 60-79 guests - $15.00/person, plus applicable gratuities and taxes
• Under 59 guests - $20.00/person, plus applicable gratuities and taxes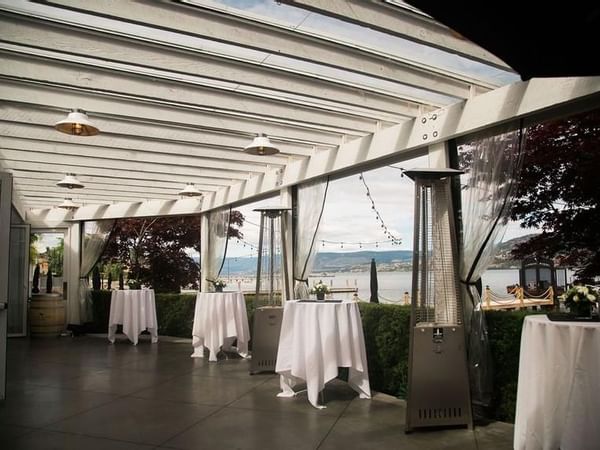 Catering Questions
Can I bring my own caterer?
No, all catering must be arranged through our catering team and prepared by our resort chefs.

Do you allow outside food?
No outside food is allowed with the exception of wedding cakes, cupcakes or donuts.

Can I supply my own alcohol?
While Eldorado Resort does have an extensive list of alcohol, we do allow for corkage on wine only. Corkage fees apply. If a favourite alcohol is not listed, we are happy to bring it in on your behalf.

Can you accommodate allergies?
Our buffets are designed to suit most guests, with a variety of options on the buffet. For plated meals, custom meals are available, pricing may vary.

Do you offer wedding tastings?
We do not offer wedding tastings, but for weddings of 50+ guests, we offer a gift card which you are able to use at either the Hotel Eldorado Lakeside Dining Room, or SmackDAB at Manteo to try our food in advance of the wedding.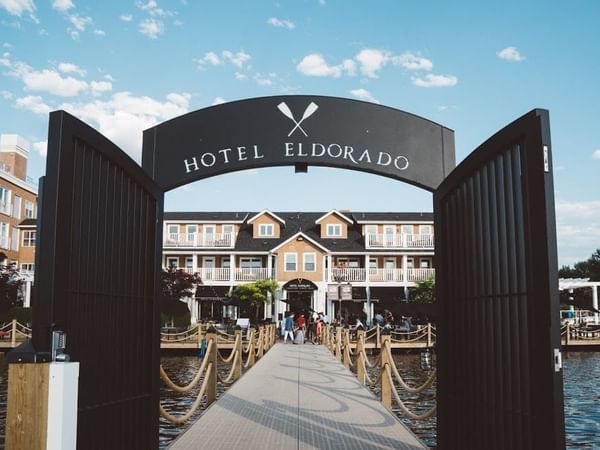 Health & Safety FAQs
What are our cleaning measures at the hotel?
At Hotel Eldorado, we want your only concern to be enjoying your stay. That's why we have increased our safety measures to ensure that your travelling remains a safe experience.