Hotel Eldorado at Eldorado Resort
World Class Lakeside Luxury Resort in Kelowna, British Columbia
Framed by stunning architecture and unparalleled views of Okanagan Lake, we welcome you to Kelowna, British Columbia's #1 Lakeside Resort - Eldorado Resort; with a glimmer of old world charm and European mystique. Discover a destination rich in history and the laid-back rhythms of yesteryear from a hidden gem where breathtaking sunsets bring each day to a splendid close. Experience the romance and nostalgia of a landmark boutique hotel dating back to 1926, where timeless elegance and warmth are infused with the luxury and hospitality of today. Where every moment is an experience.
World Class Luxury Lakefront Resort in Kelowna, British Columbia with Unparalleled Views
Hotel Eldorado, a World Class Resort, is located on Okanagan Lake and has been a hidden gem among Kelowna, British Columbia hotels on the lake since 1926: a destination of genuine hospitality, infinite warmth and spirited gatherings fondly remembered for years to follow. Tour our image gallery for a sense of a day in the life at the Hotel Eldorado and feel the Spirit of the El.
Eldorado Marina
The Eldorado Marina is open for the season 7 days a week!
Exclusive to the Eldorado Marina is our brand new Nautique tournament boats and wake surf boats, and available open bow Cobalts, Pantoons, and Waverunner rentals. You can choose how much time you want to spend on the water during your vacation; one hour, one day or a week.
For a relaxed tour of the beautiful shoreline, you can enjoy Okanagan Lake in a Kayak or on a Paddle Board. Moorage and Rentals Available. Visit the Eldorado Marina website to book your experience.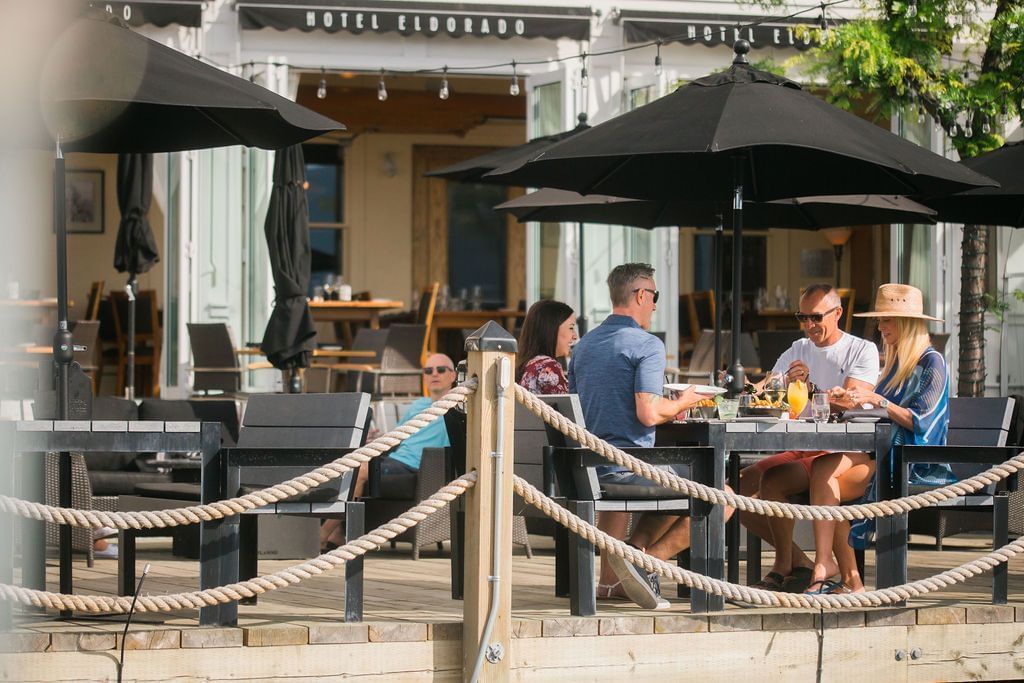 Award-winning Lakeside Fine-Dining + Boardwalk Restaurant
European-inspired cuisine, captivating unparalleled lake views and glorious sunsets come together to create unforgettable dining experiences – from the elegant and award-winning Lakeside Dining Room to the enticing Eldorado Lounge and Whisky Room, to the magnificent, sun-drenched Boardwalk overlooking Okanagan Lake and the mountains beyond. Join us at our table.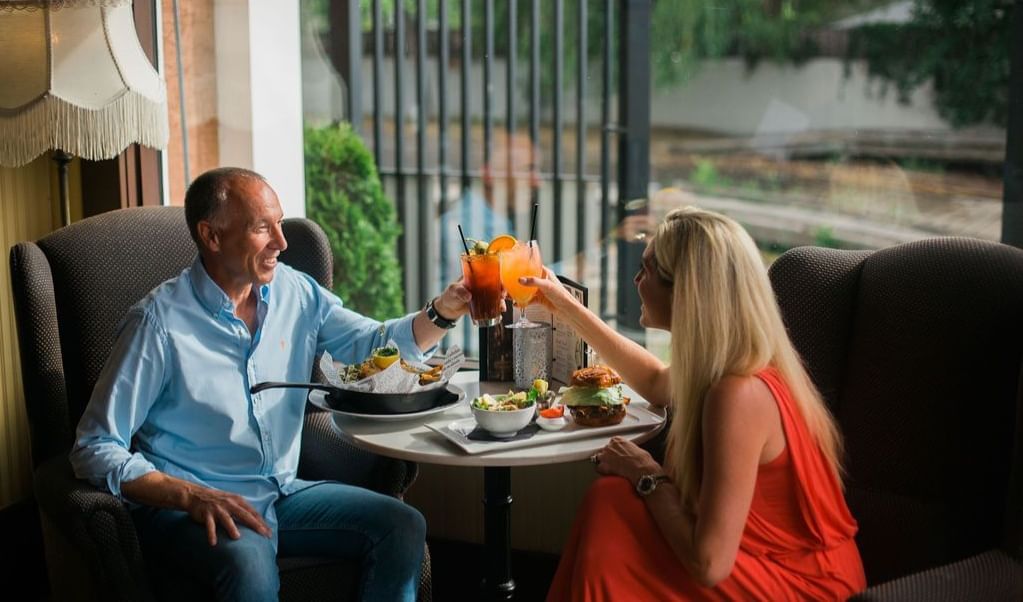 Our Guestrooms and Suites
From our intimate and legacy Heritage Guest Rooms to our luxurious and grand Arms Luxury Lake View Suites with unobstructed water views, each of our 53 guest rooms and suites is characteristically charming and filled with an abundance of natural light and fresh air.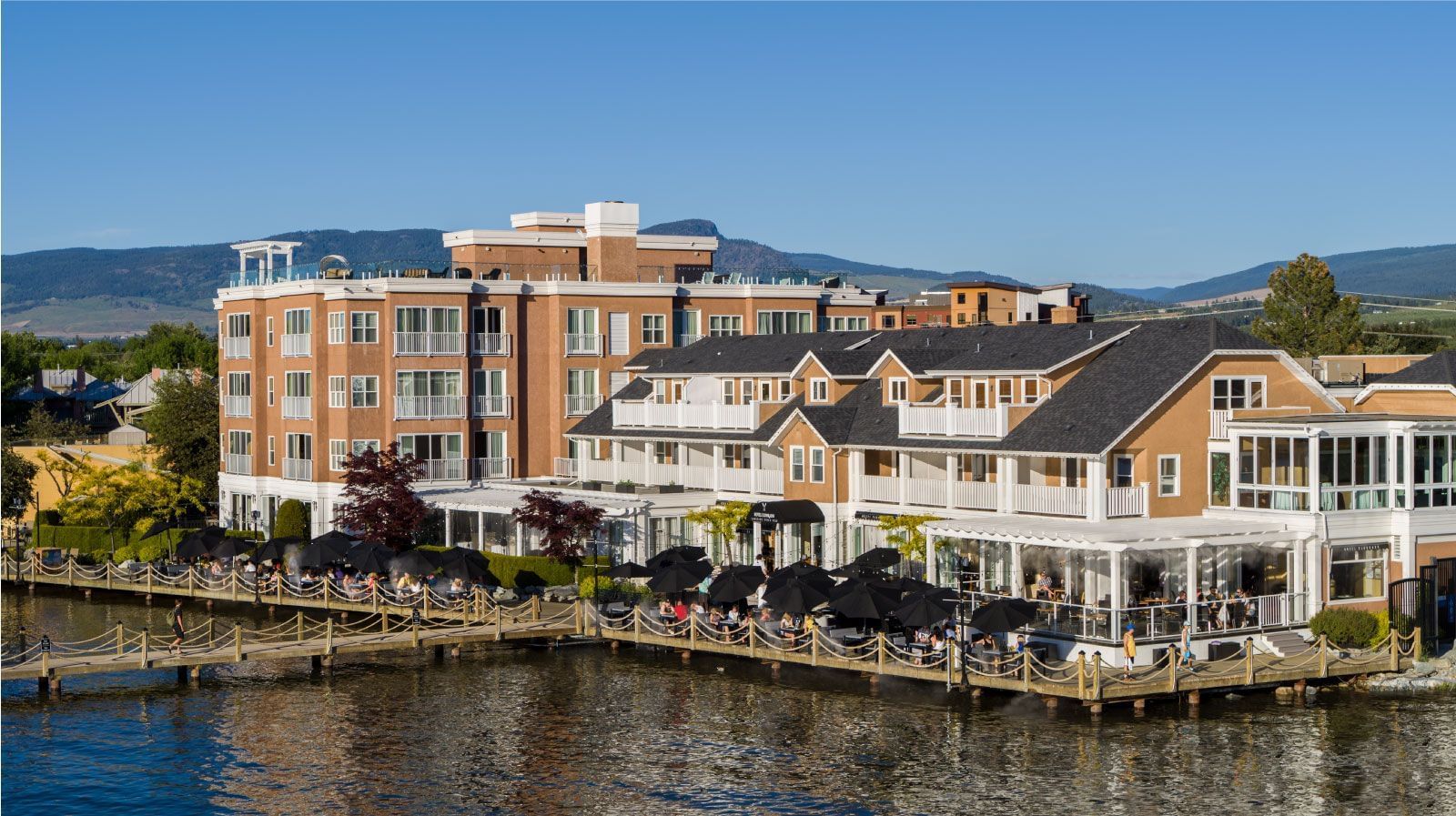 A Hidden Gem with Old World Charm
Dating back to 1926, the Hotel Eldorado's story is a tale of British Royalty and thrilling vacations, an honour bar and Olympic rowers, and of London cabs and dog shows. Learn more about Hotel Eldorado's heritage and history.